The PrideStaff Companies Honor Field Associates During National Staffing Employee Week
September 11, 2023
---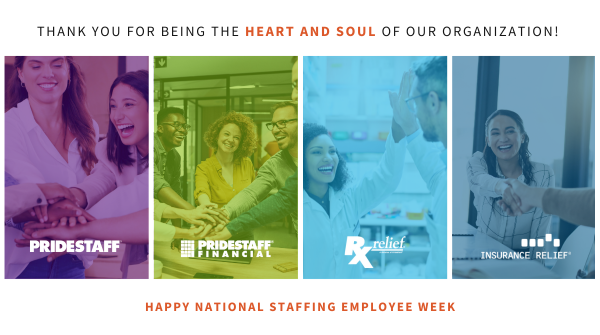 The PrideStaff Companies are pleased to join staffing agencies nationwide in honoring field associates' achievements and impact during National Staffing Employee Week, September 11 – 17, 2023.
Appreciating field associates is central to our industry. We understand they are an integral part of our ongoing success. That's why we go out of our way to make our company a great place to work! We focus on what matters most to our associates, such as comprehensive benefits from day one. Field associates can earn a $100 referral bonus, become eligible for holiday pay, and receive recognition for their efforts through awards programs like Everyday Hero® and National Temporary Employee of the Year.
The PrideStaff Companies' field associates love working with us. They enjoy the range of opportunities available and our best-in-class approach that combines diverse industry expertise with one-on-one career coaching. "I never thought that I would find an employer who would help me advance from a temporary forklift associate to a Recruiting Assistant, but they believed in me," said Recruiting Assistant Calvin B. "Every day, I'm proud to wear my PrideStaff shirt. Working for PrideStaff has brought out the best in me and changed my life for the better in so many ways."
The PrideStaff Companies are again participating in ASA's National Staffing Employee Week as one more way to express appreciation. This annual program, established by the American Staffing Association (ASA), recognizes the contributions of the millions of individuals employed by U.S. staffing agencies every day. During this special week, staffing firms across the nation host special events honoring their greatest asset: their temporary and contract employees.
According to the ASA, more than three million temporary and contract employees work for America's staffing companies during an average week. These individuals work in roles spanning many different industry sectors and professions, including industrial, office/clerical and administrative, professional/managerial, engineering, information technology, and scientific and healthcare. Temporary and contract employees use their skills and expertise to help employers fill vacancies, increase flexibility, hit tight deadlines, and achieve business objectives. Assignments and contract positions can also lead to permanent work, according to ASA research.
"National Staffing Employee Week gives us a yearly opportunity to celebrate the vital contributions temporary and contract employees make to our nation's economy," said Tammi Heaton, PrideStaff Co-CEO. "Our employees are our most important asset. Over the past year, our field associates have adapted to changing work environments and helped our partners thrive during challenging times. We are extremely proud of the great work our field associates do, and we are equally proud to be part of an industry that benefits all parties in the employment equation."
To learn more about the staffing and recruiting industry, visit americanstaffing.net.
About Insurance Relief
A division of PrideStaff, Insurance Relief specializes in recruiting top candidates for companies within the insurance industry. The parent company was founded in the 1970s as 100% company-owned units and began staffing franchising in 1995. They operate over 85 offices in North America to serve more than 5,000 clients. With 40 plus years in the staffing business, headquartered in Fresno, CA, all PrideStaff brands offer the resources and expertise of a national firm with the spirit, dedication and personal service of smaller, entrepreneurial firms. For more information on Insurance Relief services, visit our website.
PrideStaff and Insurance Relief's shared Mission: Consistently provide client experiences focused on what they value most.
---
« Return to press room