6 Job Search Tips to Help You Find a Role That Won't Lead to Burnout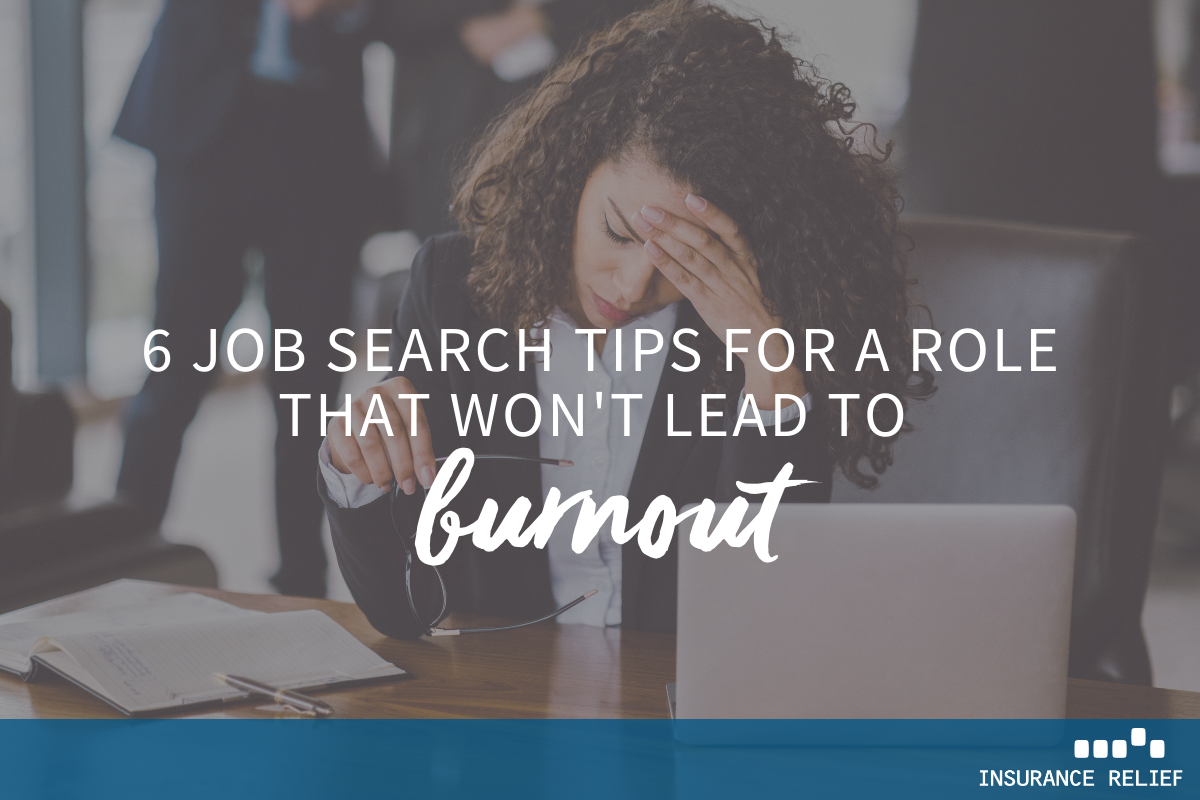 Are you currently thinking about searching for a new job, but hesitating due to the possible stress it can bring? There are tangible things you can do as you prepare for your next job search that will specifically help with preventing burnout.
Follow these six tips from Insurance Relief for avoiding burnout in your next job search!
1. Know the reasons for burnout
One reason for burnout is not getting enough rest. It could be that your job is taking up too much of your time and your workload is just too heavy.
Another cause of burnout is a lack of autonomy. You have little say in how you do your job or in making decisions about your work.
Still, another reason for burnout is that you don't feel that your work is very important or meaningful. It is simply doing a lot of routine chores that don't appear to be making much of a contribution to the company.
2. Determine what has led to your burnout
You need to figure out what has caused burnout for you in past jobs so you don't repeat the same mistake at your next one. Knowing what causes your burnout will help you to avoid the same conditions in future jobs.
For example, maybe you've experienced burnout because you have not been able to get enough rest or time away from the job. If that's the case, you want to focus on the work-life balance that a company offers. What is the flexibility of the job like? What kind of vacation schedule does the job have? How many personal days can you take?
These are the kinds of things you would then need to focus on during job interviews.
3. Look for clues in the job description
The way a job description is written may offer clues as to how much autonomy you will have in a job. For example, it may list your duties as overseeing a team of people, leading a project, or the use of similar language.
If the job description is more than a little vague as to what kind of decision-making responsibilities you will have, and there are few details about it, or it looks like the job is combining several roles into one, it may not be the job for you.
If you also see descriptive terms like fast-paced in the job description, you may want to get more information as to exactly what the hiring manager means by such language.
4. Ask questions during the interview related to burnout
If you know the kinds of things that can lead to burnout in your life, you can focus on those issues during the job interview. For example, you can ask what the company's policy is towards paid time off or even ask the hiring manager the last time they took a day off. The answers to these questions can tell you a lot about the culture of the workplace and whether you would be comfortable working there.
5. Talk to friends
Often our friends can see things that we miss in ourselves. They may know when we're suffering from symptoms of burnout. Getting their perspectives on the situation may also help when looking for a new job.
6. Find a mentor
A mentor is someone who's been there and done that. They would know what you are going through related to burnout. They may have experienced it themselves and would be able to give good advice about how to avoid it at a new job.
Find The Perfect Role
If you are an insurance professional looking for interesting and challenging work, Insurance Relief is the place to go. We are one of the top insurance placement firms, winning numerous Best of Staffing awards. We take the time to get to know each of our job candidates so that we can find the best position for them. We are with you every step of the way. Give Insurance Relief a call today.