How Artificial Intelligence Could Help Your Organization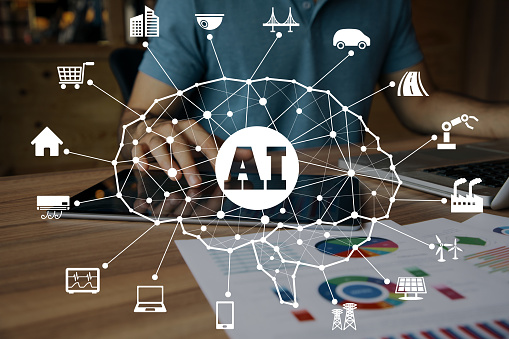 Compared to other industries, insurance has been slow to adopt digital technologies in the workplace. It is still more of a paper-based operation. But digitization can increase the efficiency of insurance companies and save a lot of money in the process.
One way of increasing efficiency through digitization is using machine vision, technology that is used to pull information from an image. This can be used to digitize paper applications. The algorithms that power machine vision are more precise than ever, enabling the technology to pull 95 percent of the application data out accurately.
Then, using an application programming interface, which allows the artificial intelligence technology to link up with other applications, the AI program validates the data on the insurance application by checking it with other information sources such as Experian or Facebook to ensure that things like names, Social Security numbers and birthdays are correct. The program will flag any data that is missing or incomplete. And then, the program will send a text to the insurance agent in just a few minutes telling them what information is needed to complete the application.
This technology reduces application processing costs by 40 percent. It also greatly reduces the time it takes to issue a policy, enabling agents to receive their commissions quicker as well. Because the technology improves the process so dramatically, it gives agents a big incentive to go with a digital application rather than the traditional paper-based variety. Not only that, it cuts down on the turnover of customers. Research has shown the longer it takes to process a customer's application, the greater the customer turnover.
Artificial intelligence can also be used to electronically match a customer with the agent that can best handle the person's needs, which can increase sales. Artificial intelligence is not currently being used for the underwriting process, but it is being used to analyze and improve how underwriting is done.  
Life insurance can be complex, according to insurance officials, incorporating as many as 25,000 rules in the underwriting process. Artificial intelligence can be used to digitize the rules and can provide some understanding about which rules are used or not used and how they connect to the underwriting outcomes.
If your company is growing and looking for new people, Insurance Relief can find the top-notch professionals you need. We are one of the best in the business, winning a Best of Staffing Award for our accomplishments. At Insurance Relief, we care about the people we recruit as individuals. We provide job opportunities that fit, and we treat our people with respect and fairness. Give us a call today.