The Latest Estimates on the California Wildfires and The Impact on the Insurance Industry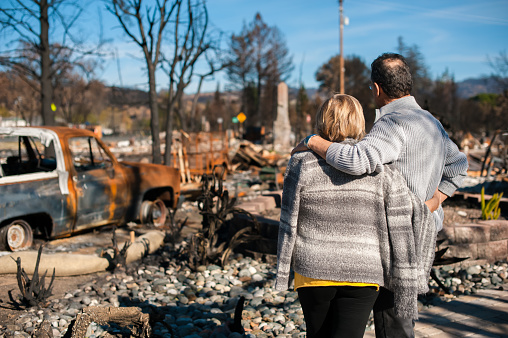 The destruction caused by the recent wildfires in California could lead to losses as high as $15 to $19 billion, according to some of the latest estimates. This is about $6 billion higher than previous estimates.
These are the loss assessments for the combined fires in both Northern and Southern California. The Camp Fire in Northern California, now recognized as the deadliest and most devastating in the history of the state, has caused losses between $11 and $13 billion. Loss estimates for the Woolsey Fire in Southern California range between $4 billion and $6 billion.
The losses include damage to property and vehicles, as well as fire and smoke damage. Other losses taken into account include the setbacks to business operations, contents losses, and living expenses.
A Little Background on the Fires
The Camp Fire, which started in Butte County in Northern California, covered more than 150,000 acres and destroyed almost 19,000 structures. There were at least 86 fatalities reported from the fire. It is also considered to be the most expensive natural disaster in 2018. It completely wiped out the towns of Concow and Paradise, destroying almost every building in both communities. It also caused widespread air pollution in the San Francisco Bay Area and the Central Valley of California.
The Woolsey Fire in Los Angeles and Ventura counties burned almost 100,000 acres and destroyed more than 1,600 buildings. Almost 300,000 people had to be evacuated because of the fire.
Wildfires Are a Major Catastrophe Risk
Insurance officials consider wildfires to be a major catastrophe risk, requiring the use of the most advanced data and modeling science to manage. Because of climate change, homeowners, insurers and governments need to prepare themselves to deal with fires that occur more often and are more severe, especially as construction continues to encroach on wilderness areas, according to insurers.
Ratings companies maintain that insurers and reinsurers should be able to absorb the losses through earnings. However, because of the greater incidence and intensity of the fires, along with regulatory restrictions in the state, insurers may reassess the amount of coverage they write in California. AIG, Chubb, and Farmers were the hardest hit by the fires.
Insurance Relief is one of the most respected staffing agencies focusing on the insurance industry. We take a personalized approach toward each person we recruit, matching people with the right job, and treating everyone with respect and fairness. Our efforts have earned us a Best in Staffing award. Contact Insurance Relief today.