Traveling for the Holidays? Five Ways to Stay Safe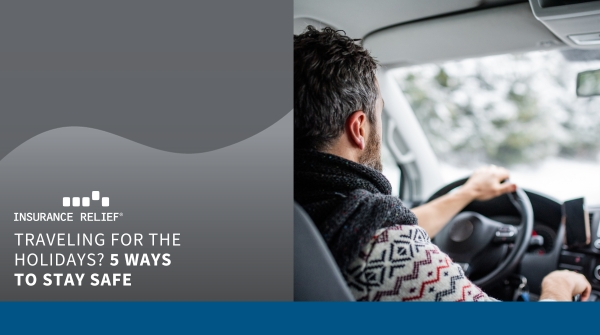 Traveling for the holidays can be a memorable experience, but it's essential to prioritize safety to ensure a smooth journey. Whether you're traveling by car, plane, or any other means, here are five ways to stay safe during the holiday season:
Plan Ahead and Stay Informed
Before you embark on your holiday journey, plan your route and accommodations in advance. Research road conditions, flight schedules, and weather forecasts to make informed decisions. Stay updated on travel advisories, delays, and safety guidelines. This information can help you adjust your plans if needed.
Safe Driving Practices
If you're traveling by car, prioritize safe driving practices. Ensure your vehicle is well-maintained, including brakes, tires, and lights. Avoid driving under the influence of alcohol or drugs, and don't drive while drowsy. Take regular breaks to stay alert. Buckle up, obey speed limits, and follow all traffic rules. Be cautious in adverse weather conditions and give yourself extra time for your journey.
Pack Wisely and Secure Your Belongings
When flying, pack essential items, such as medications, travel documents, and valuables, in your carry-on bag. This ensures you have access to them at all times. Keep an eye on your luggage and personal belongings when in crowded places or on public transportation. Use locks or secure bags to deter theft.
Stay Connected and Share Your Itinerary
Let someone you trust know your travel plans, including your destination, mode of transport, and expected arrival time. This can be a safety net in case of emergencies. Carry a fully charged cell phone and charger. Ensure you have the contact information for your accommodations, local emergency services, and your travel companions.
Travel Insurance 
Consider travel insurance to provide extra protection in case of cancellations, delays, or unexpected events. Keep copies of important documents, such as passports, IDs, and insurance information, both physically and digitally, in case of loss or theft.
Overall, staying safe during holiday travel involves a combination of preparation, awareness, and vigilance. By taking these precautions, you can reduce the risks associated with travel and focus on enjoying the season with your loved ones. Remember that safety is paramount.
If you are an insurance professional, connect with a staffing expert who understands your skills, background and needs. 
With vast experience in the insurance arena, Insurance Relief works with brokers, carriers and third-party administrators to locate and place the best people for positions ranging from entry-level to senior management. We invest the time to truly understand what you want to accomplish and then do our best to find meaningful opportunities. Browse insurance job opportunities today.