How to Stay Optimistic When Business is Slow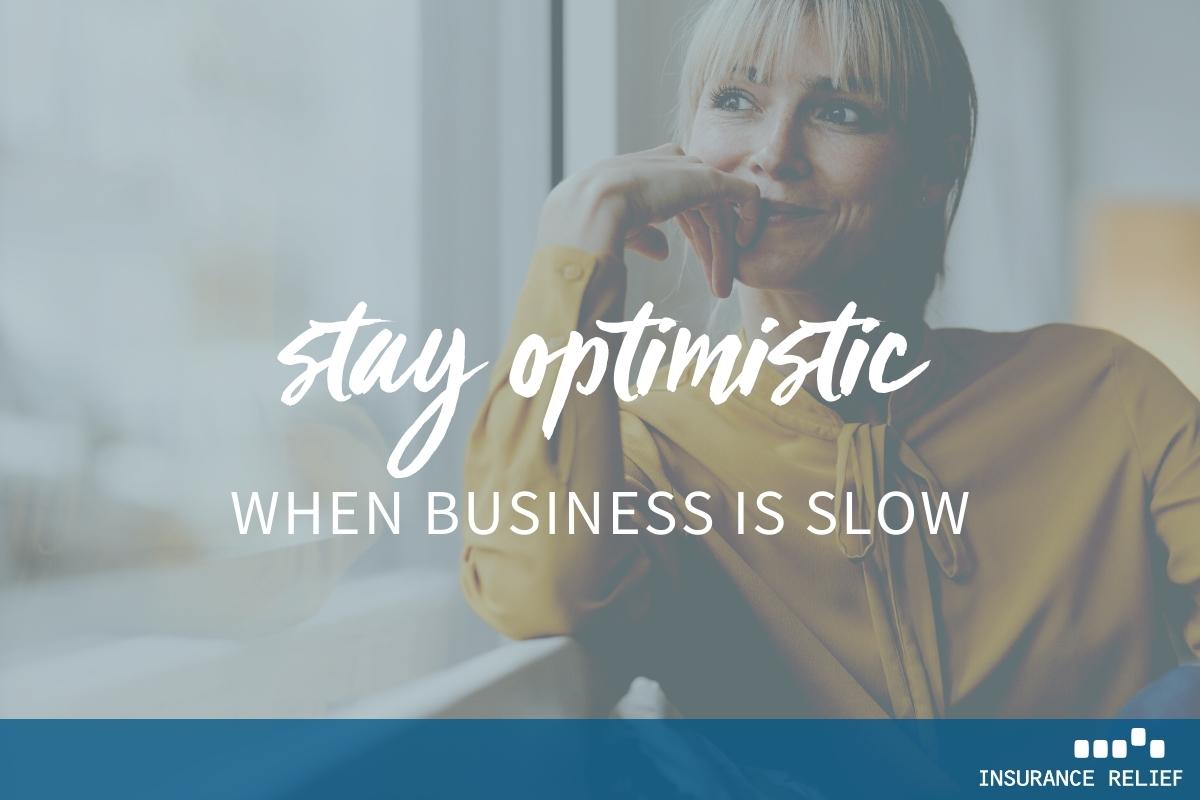 The economy goes through business cycles – times when business is growing and times when it is contracting. When things slow down, stress levels go up. Here are some measures you can take when things are slow to stay focused and get sales moving again.
Targeting your marketing
Focus on a niche market, rather than trying to be all things to all people. This will help you in several ways. First of all, it will give you a more in-depth knowledge of your niche and your ability to evaluate risk in this area of specialization. It will also give you a leg up on your competitors because you will gain a reputation as an expert in your niche area.
As your reputation grows, you may start to get more referrals from your current clients.
To help you decide what specialty to focus on, you can begin by looking at the kinds of businesses that are most prevalent in your location. You can also join trade associations, look at industry magazines to stay current, and focus your networking in that particular niche.
Networking
Networking is crucial to building up your business. But to gain new clients, you need to go to new places. To reach potential customers, check out gatherings that are outside the insurance industry. Some examples of these types of meetings include meet-up groups, trade shows, local fairs, charity events, and business seminars. You can also volunteer at a nonprofit organization. Building a connection in your community is a good way to increase business.
Actively looking
You need to be out searching and digging for new business every day. Even if you are an experienced agent, prospecting for business never stops. It is crucial to keep your business growing.
You should spend a little time each day reading the local papers, looking in the business section, but also in other sections as well, such as engagement announcements, which can be a good source of leads.
Cold calling is not the most pleasant activity in the world, but it's still a good way to look for new business. Hand out business cards to your current clients and ask them if they can provide any new contacts for you.
Forming relationships with other business people
You can also connect with people in other professions to share leads about possible new clients. These other professionals include people like real estate agents, mortgage brokers, and financial planners.
Promotion through social media
Build up an online presence to help gain new business. You can do this through blogging, building a website, sending emails, and establishing a presence on Facebook and LinkedIn.
Bonus tip: hire amazing people!
If your company is looking for qualified, reliable insurance professionals, contact Insurance Relief today. We are one of the best in the business, winning a Best in Staffing award for our accomplishments. At Insurance Relief, we thoroughly evaluate each person so that you get only the best.