Navigating the Complexities of Insurance Licensing and Certifications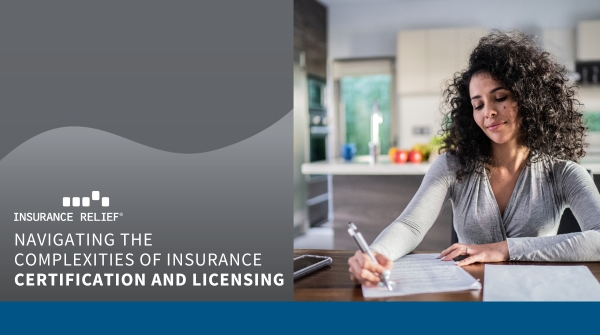 The insurance industry is highly regulated, and professionals working in this field often require various licenses and certifications to operate legally and competently. These licenses and certifications vary by location and specialization within the industry. Here are some of the most common ones:
Insurance Producer License
Also known as an insurance agent or broker license, this is the basic requirement for anyone selling insurance products. To obtain this license, people must pass a state-specific exam and meet other requirements, such as background checks. The license may have different categories, such as life, health, property, or casualty, depending on the types of insurance products the professional intends to sell.
Life and Health Insurance License
Specialized licenses are often needed to sell life and health insurance products. These licenses may require additional training and exams to demonstrate expertise in these areas. Professionals selling life insurance help clients plan for financial security and manage risks related to their lives, while health insurance agents assist with healthcare coverage.
Property and Casualty Insurance License
This license is essential for those involved in selling property and casualty insurance, which covers a wide range of risks, including auto, home, and commercial property. It requires passing state exams and may have different categories for various types of property and casualty insurance.
Adjuster License
Insurance adjusters assess and process insurance claims. Depending on the state, they may need a specific adjuster license. These professionals investigate claims, determine coverage, and negotiate settlements with policyholders or claimants.
Certified Insurance Counselor (CIC)
The CIC designation is a respected certification that insurance professionals can earn. It involves completing a series of courses and exams covering various aspects of insurance, risk management, and agency operations. CICs are well-equipped to provide in-depth advice to clients and businesses.
Certified Insurance Agent (CIA)
Offered by the National Alliance for Insurance Education & Research, the CIA designation signifies expertise in insurance and risk management. It requires completing coursework and passing exams in various insurance-related topics.
Chartered Property Casualty Underwriter (CPCU)
The CPCU designation is a prestigious credential for insurance professionals specializing in property and casualty insurance. It involves rigorous coursework and examinations, covering topics like risk management, insurance law, and underwriting.
Associate in Insurance Services (AIS)
AIS is a designation that focuses on customer service, agency operations, and insurance products. It's suitable for professionals looking to enhance their client interaction skills and agency management capabilities.
Associate in Claims (AIC)
The AIC designation is ideal for insurance professionals specializing in claims handling. It covers claims processing, investigation, and settlement, providing expertise in this aspect of the industry.
If you are an insurance professional, it is in your best interest to partner with a staffing expert that understands your unique skills and needs.
Insurance Relief is an expert, with vast experience in the insurance industry. Insurance Relief works with brokers, carriers, and third-party administrators to locate and place the best people for positions in the industry ranging from entry-level to senior management. We invest the time to really understand what you want to accomplish and then work our hardest to find you meaningful opportunities. Give Insurance Relief a call today.